Emergency Numbers
Local Nurse: 098 25407
Police/Fire/Ambulance: 999 or 112
Achill Lifeboat Office: 098 45612
Marine Rescue/Coastguard Emergencies: 999 or 112 (ask for Coastguard)
Mountain Rescue: 999 or 112 (ask for Mountain Rescue)
Leave No Trace
Shop and Post Office
O' Malley's Shop and post office is open year round.
The shop stocks a selection of groceries and has a tea/coffee machine.
Mass Times
Clare Island no longer has a resident Priest and is now served by a visiting Priest. On the weekends that the Priest does not visit the island, the people organise a religious service. The Church is situated beside the school and shop; 3km from the Quay. Just ask any local for mass times.
Public Toilets
Public toilets are available adjacent to the camp site and 5 mins walk from the pier. There are also laundry facilities, showers and an outside tap.
Internet/ Fax/Printing Services
Most businesses on the island provide free WiFi. Computer services and fax can be accessed in the development office and the library during office hours 9.00 am to 2.00pm; 3.00 pm to 5.00pm. The development office and library are situated upstairs in the community centre (for out of office hours ask at the community centre bar).
Food and Beverages
A selection of food and beverages are available on the island from 11am during the peak season (June to September).
Printable Maps & Posters
Download the map and poster below in large printable PDF format.
Clare Island Visitor Map
Download Map (2MB)
Clare Island Flora & Fauna Poster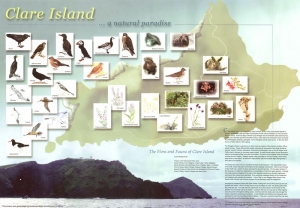 Download Poster (7MB)